Preserve Every Precious Detail!
What is Luna Bean Casting?
Luna Bean Casting is an incredible experience with beautiful, detailed results! The unique rubbery mold captures every precious line, wrinkle, and crease for a perfect one-of-a kind treasured gift. From our tiny baby hand casting kits that allow you to always remember how little they once were to our full family hand casting kits, you can do it all.
Click Here For Luna Bean Kits
What Our Customers Are Saying!
Amazing details!
Turned out beautifully. Read, read, read the instructions. Even read the other reviews to listen about what others had trouble with to make it easier on you when you do it. We must've read the directions 50 times before doing it. I read all the reviews to get pointers from others.
Not an artist, but feel like one now.
Did this for my parent's 61st wedding anniversary. Exceeded my expectations and theirs - truly something we will cherish. Would buy again! Love this product.
Wonderful!
Very easy instructions, and wonderful product! i couldn't believe the detail of the hands when it was complete. Though i urge anyone with long finger nails to follow the helpful tips. I didn't as much as i should have and one of my nails broke off.
Perfect Gift
My husband and I made this couples hand for our daughters Christmas gift. She was so surprised and delighted at our gift to her. It brought tears to her eyes and a smile to her face. She never expected a gift like this and it turned out beautifully.
Awesome!
It came out so nice I didn't think I would like it as much as I do. The details are so sharp. It was a little messy but fun to do. I used antique copper spray paint to finish it off.
Great product!
I finally got it right on Valentine's Day. My wife loved participating with me to create this piece of art. Instructions were really easy to follow and everything worked out well! We had our wedding rings on and you could actually see them in the mold. I was shocked how the veins in my wife's hands looked so realistic. I would buy it again.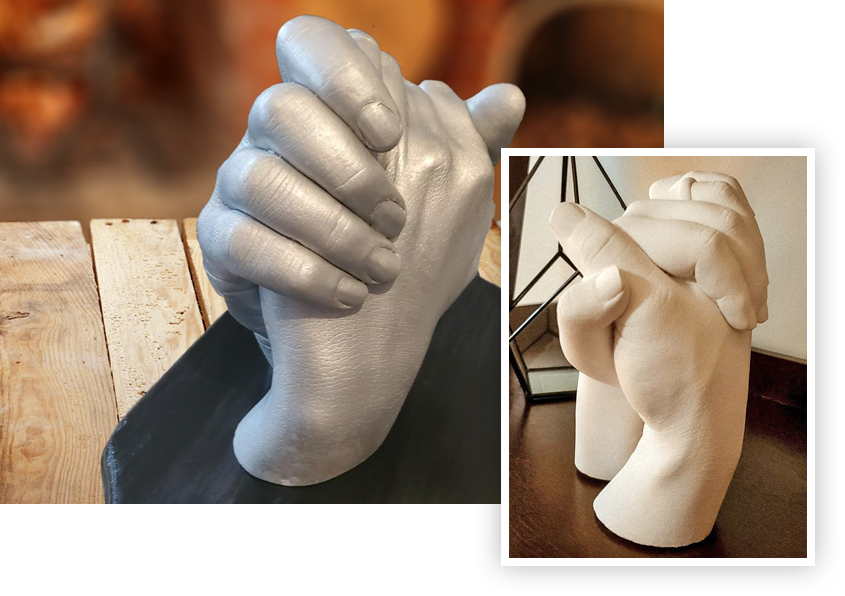 about us
DIY Casting Kit Keepsakes For All Ages & OccasionsFamily owned and proudly located in Minnesota, USA! Join us in celebrating milestones with one-of-a-kind unique handmade gifts. Our DIY casting kits are perfect for a new baby, new parents, couples, weddings, anniversaries, family holidays, and more! Create highly-detailed 3D hand castings, pregnant belly castings, tiny baby feet molds, and even pet paw prints!
read more